at least for a while, I think. I was more motivated to cook b/c Jody said to take a picture & give her the recipe so how could I disappoint the girl who always fulfills my requests? I couldn't.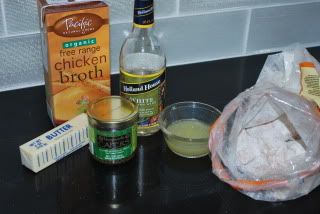 So just like 'The Pioneer Woman Cooks' here is a shot of all the ingredients you need. In the bag on the right is the albino chicken tenders tossed in flour.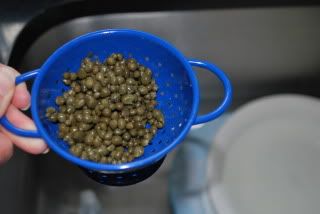 You cannot make this recipe if you do not own a mini strainer for the capers. (Maybe for my next post I will share all the necessary mini things you should have:)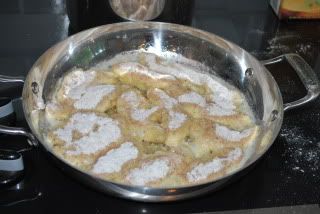 The work in progress...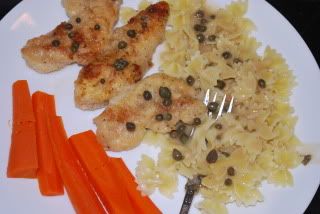 and walah! You have a dinner that 2 out of 4 girls (under the age of 7) enjoyed.
Chicken Piccata with Capers
1 1/2 pounds of chicken tenders
1/2 C flour
2-3 tsp Lawrys garlic salt
1 tsp pepper
2 T oil
1/2 stick of butter
1 C white wine
1 C of chicken broth
Juice of 1 lemon
1/4 C of capers
Shake chicken in bag w/flour mixture
In skillet over med high heat, melt butter & oil & brown chicken on both sides until browned (about 4 min. each) Remove chicken to platter.
Leave frying juices in the pan, add the cooking wine, lemon juice, broth, 2 Tbs butter & bring to a boil
Place chicken back in pan to simmer for 10 to 15 min covered. Add the capers the last 2 min.
This recipe came from The Food Nanny Rescues Dinner.
Since this is the one and only recipe I've posted I expect all two of you to make this & give me your review.